Chairman's Statement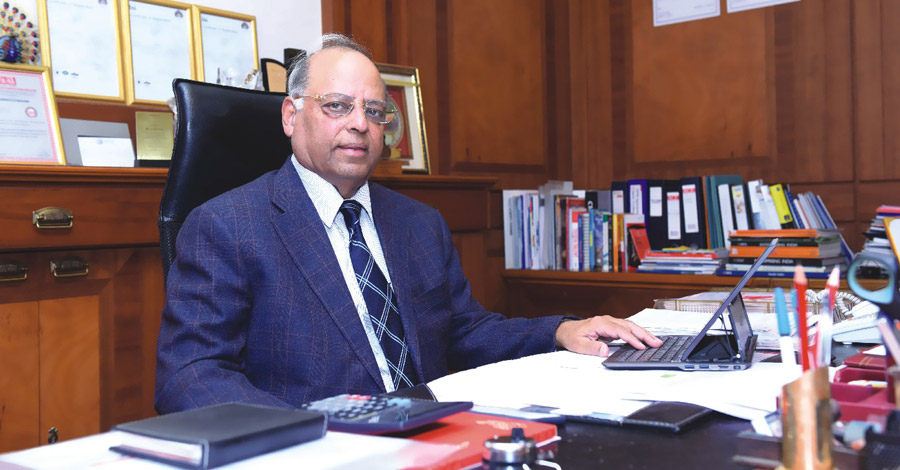 I feel enthused and honored to reach you through this 24th Annual Report of the Company. This year has been marked by several historic economic policy developments. The constitutional amendment paved the way for implementing the transformational Goods and Services Tax (GST) while demonetisation of the large currency notes signaled a regime shift to punitively raise the costs of illicit activities.
The Demonetisation although caused some reduction in economic growth down from 7.5% to 6.81% at the end of third quarter and the fourth quarter, I am very optimistic that the growth phenomenon has already started upward movement. The GST will create a common Indian market, improve tax compliance and governance, and boost investment and growth. Your Company being organized player in the industry will get benefit from GST implementation.
India's gross domestic product (GDP) grew by 7 per cent year-on-year in October-December 2016 quarter, which is the strongest among G-20 countries, as per Organization for Economic Co-operation and Development (OECD) Economic Survey of India, 2017. The Indian economy is expected to 7.2 per cent growth this financial year and further grow to 7.5 per cent in 2018-19.
The Indian Auto Industry is one of the largest in the world. The industry accounts for 45% of the country's manufacturing Gross Domestic Product (GDP), 7.1% of the country's GDP and employs about 19 million people both directly and indirectly. The Government's Automotive Mission Plan (AMP) 2016–26 envisions the industry to grow around four times by FY 26. AMP 2026 envisages that the Indian Automotive Industry will grow 3.5 – 4 times in value from its current output of around Rs. 4.64 trillion to about Rs. 16.16 – 18.885 trillion by 2026.
The auto component industry is expected to witness double-digit growth over the next decade owing to huge demand from both domestic and export markets. The growth of the automotive market will translate into huge potential for the auto component sector.
In the last year, Ford Motor Company and Fiat Chrysler USA have been leading customers for Mayur with increases in business approx 10%-12% levels. Mayur has been focusing and developing higher value added products to be in position for the future. Your Company has added nine Auto OEM customers during the financial year 2016-17.
In the domestic field, Mayur has focused all the big Auto companies of India viz. Maruti, Mahindra, TATA, ISUZU, Honda, LML Vespa, Suzuki, Sonalika Tractor, General Motors, Lear, Ts Tech Sun, Krishna Maruti, Bharat Seat, S.I. Interpact Group, Sharda Motor, Swaraj Auto, Polar Auto, Renault, Volkswagon, Hero, Bajaj, Piaggio etc. to support their high end automobile segments. We are seeing increased business awards in several new and upcoming platforms increasing our exposure and business.
Mayur has leadership position in auto replacement market. Both sectors are expected to grow 12-15% promising a good future growth for your company.
Footwear industry was affected the most in your company business due to demonetization. Indian market witnessed an exodus of final customer in showrooms with cash crunch. As a result, all the synthetic leather companies organized and unorganized were affected. The business at footwear companies started the uptick back to normal on the currency shortage reduced. Demonetization also brought the unorganized sector to the organized side, an advantage to Mayur.
Numerous international brands who are using PU leather in garments/footwear, ladies purses & bags are coming in India to resource their products which will increase the demand of PU and lead to the growth of the industry. We are driven by the need to grow our customer's business. In line with this, our business is expected to be in continuous growth momentum. In keeping with our strategy for the future and having regard to the ample scope of Polyurethane (PU) leather market where growth potential is high, your Company is in process to setup a PU leather plant at Gwalior (MP) of capacity 0.7 million linear meters per month. Also, in order to expand our footprints and business portfolio in south India, your Company is in process to set up a PVC leather plant of capacity 0.10 million linear meters at Mysore (Karnataka). Such additional capacity will be the key driver for higher sales volume in future. The Company will fund both these projects from internal accruals and partial from banks. The state governments of both these states have allotted land and the Company has made initial payment for this.
Demonetization affected us at the beginning, however, with wide of range of products, we have been able to manage and your Company achieved total revenue on standalone basis amounting to Rs. 492.12 Crore and Net Profit After Taxes (PAT) amounting to Rs. 80.68 Crore in 2016-17. EBIDTA has increased from 26.97 % to 27.61 %. Profit After Tax (PAT) on consolidated basis has increased from Rs. 77.19 Crore to Rs. 78.86 Crore recording an increase of 2.16%.
The Company's Wholly Owned Subsidiary in USA is doing well. Looking at international business exposure and for the purpose of better risk management and more effective internal control function, the management is of view that the Company should have Statutory Auditors who have international experience and exposure, hence, the Board of Directors have receommended the appointment of, subject to the approval of Shareholders, M/s. Price Waterhouse Chartered Accountant LLP as Statutory Auditor of the Company.
Your Company is very particular to control the cost and enhance the working efficiency to achieve the overall objective of the Company. In this direction, the Company is following TMP, TQM and lean management to improve the efficiency and to reduce the cost. We are in process to appoint good consultancy firms for this purpose.
Also, the Company has continuously been eying at Europe, Middle East, USA in order enhance its export business and to achieve this, the Company appointed one marketing expert to develop automotive segment in Europe. With the continuous engagement with the foreign buyers, we are sure that we will be able to further increase our market share in USA in the coming years.
Your Company received the following awards during financial year 2016-17:
a) "Best Employers 2015" Award organized by the Employers Association of Rajasthan.
b) "Entrepreneur India 2016" Award Organized by Franchise India Holdings Limited.
c) "Certificate of Excellence Award" in export performance during 2015-16 organized by "Council for Leather Exports."
At Mayur, we believe that sustained economic growth cannot be achieved without social progress and an organization must maintain highest standards of corporate behavior towards its investors, stakeholders, employees and societies in which it operates. Being a responsible corporate citizen, your Company has always discharged its social responsibility as a part of its Corporate Governance philosophy. The Company is committed to make a positive contribution to the society and community. It has always been our effort to continue to focus on our business, environment and community initiatives as a part of our sustainability strategy. The Company is focusing on skill and educational development for the society. Eleven government schools have been converted as modern schools which has been very encouraging for us and twenty more schools are in process as well. In coming three years time, figure will be more than one hundred schools.
I am thankful to the Board of Directors and members of management for their support and guidance. I also extend my sincere thanks to shareholders, esteemed customers, business associates for providing the opportunities to earn their confidence. The dedication and commitment of our employees and officers at all levels continues to be the major strength of our Company. We shall make continuous efforts to build on these strengths to face future challenges and sustain the momentum for profitable growth.
Thanks,
Best Regards,
Suresh Kumar Poddar
Chairman & Managing Director & CEO
DIN:-00022395
Place: Jaitpura (Jaipur)
Dated: 29th May, 2017
Previous Years Chairman's Statements

Title
Venue
Date
Download PDF
Chairman's Statement at MAYUR
Jaitpura, Jaipur
16th September, 2015
Chairman's Statement at MAYUR
Jaitpura, Jaipur
16th September, 2014
Chairman's Statement at MAYUR
Jaitpura, Jaipur
16th July, 2013
Chairman's Statement at MAYUR
Jaitpura, Jaipur
23rd July, 2012
Chairman's Statement at MAYUR
Jaitpura, Jaipur
25th June, 2011
Chairman's Statement at MAYUR
Jaitpura, Jaipur
17th July, 2010